We are very proud of our two Groom Room barbers, Jeremy and Finn, who both took out wins at the recent New Zealand Barber Wars 2018. The competition was tough, with a total of 10 barbers competing from all over the country. The competition was incredibly strong with four barber tutors, four owner-operators and our two boys. We caught up with Jeremy and Finn to talk hair, style and barbering.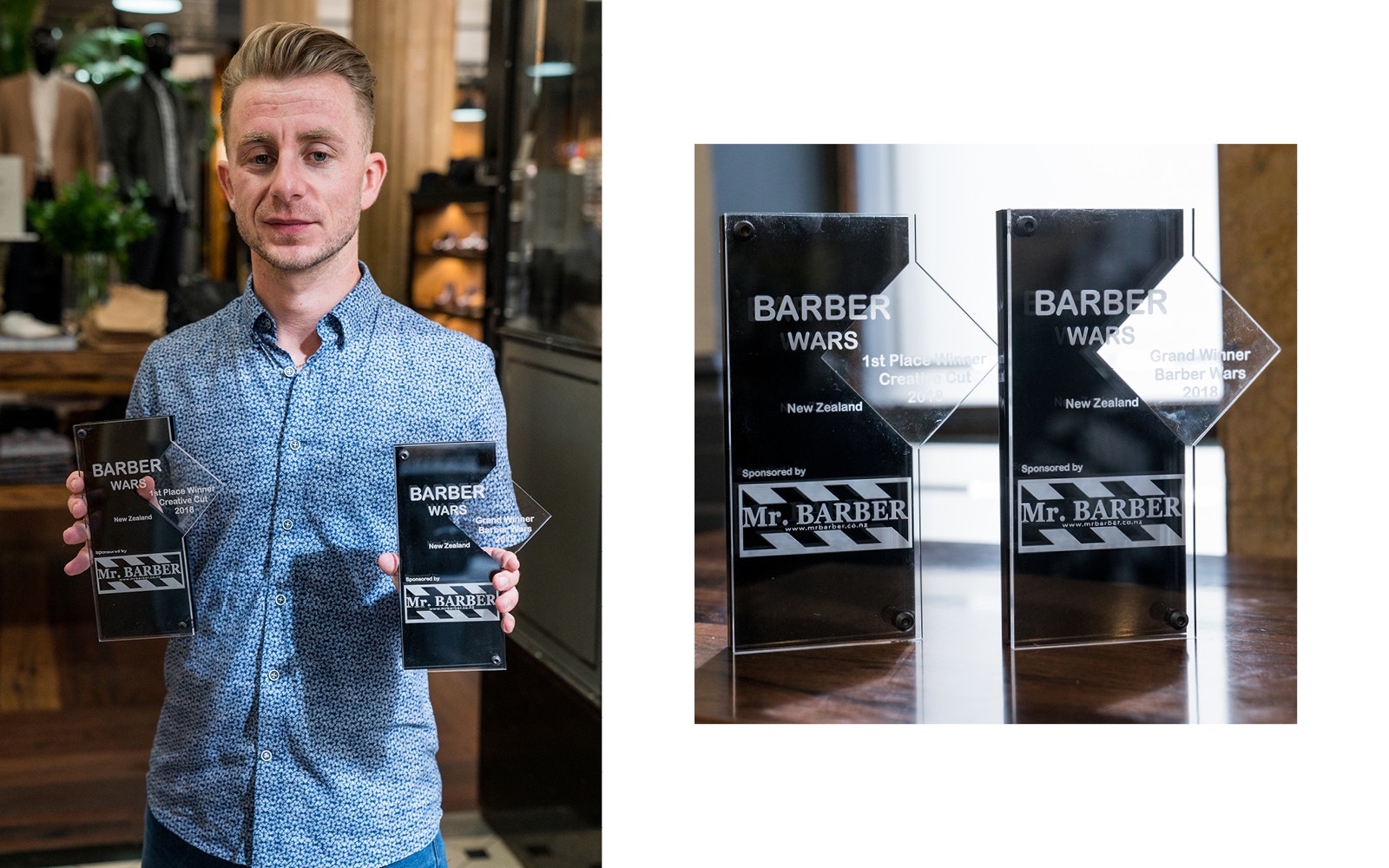 Jeremy Hava – High St Manager
1st Place Creative Cut, 1st Place Overall Barber
How did you get into barbering? And how long have you been a barber now?
I got into barbering and hairdressing about seven years ago. I have always been very particular with my hair, and having a nice hairstyle was always so important to me. After finishing high school, it was really hard for me to figure what I wanted to do. As well as keeping my own hair in check, I started cutting my mate's hair, and turned out I was pretty good at it. That's when it all began!
What style of barber are you? Why?
To be completely honest, I don't consider myself a barber, but more a men's hairstylist. For me, if you want to be able to master every single haircut and provide a very good result, you'll need both hairdressing and barbering skills. I don't think one without the other can work, and hope that in the future, those two terms, barbering and hairdressing will be merged.
What's the best thing about your career?
The best thing about my job is that I'm allowed to fully express my creativity and give every haircut a little piece of myself. I get to meet new people every day and build strong relationships with them, talking about everything and nothing! I also like the fact that there is always something to learn from someone, experienced or not. The fashion, style and hair trends are constantly changing, so we need to stay on the top of it all the time. It's very challenging, so very interesting. Sharing my passion for men's hairstyling with my team and so many other people is something that makes me really happy.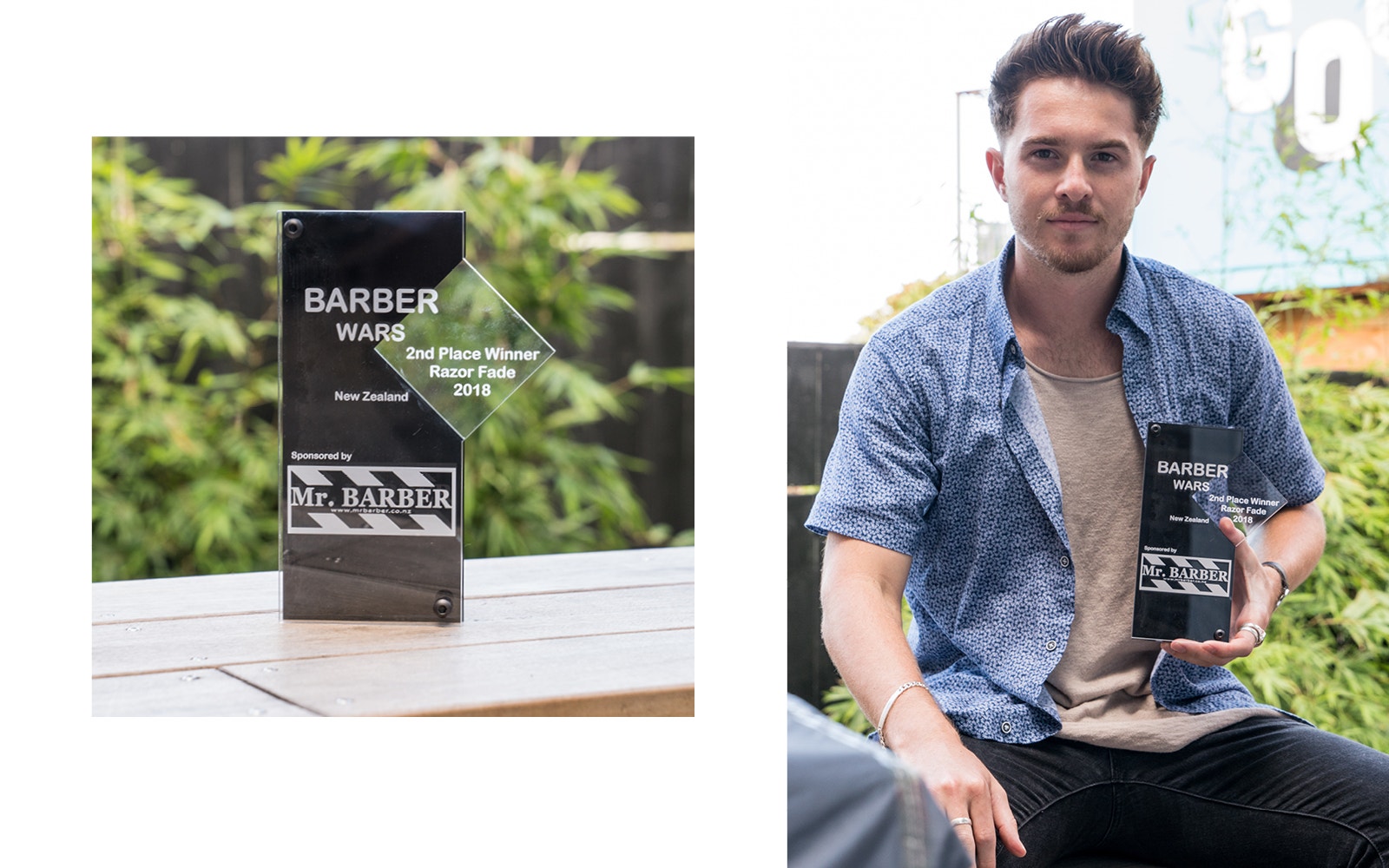 Finn Cochran – Ponsonby Assistant Manager
2nd Place Traditional Razor Cut
How did you get into barbering? And how long have you been a barber now?
It all happened very quickly. I had cut my own hair for years, ironically, after having a really bad experience at a hairdresser about eight years ago. I had just finished up at university and was looking for a change, and had always been interested in fashion and looking good. One of my best mates thought it was about time I got a "real haircut". He shouted my first cut in eight years for my 21st Birthday, and it was at the Barkers Groom Room on High St. Apparently I was here to see the best, and after one of the best conversations and experience, Vea explained, "If you're serious, go to barber school for a bit, come back and I'll see what you've got".
Long story short, after a few months at Cut Above Academy I was back: cutting part time in Groom Room while still finishing up my course. One and a half years later, with a few months out due to a broken hand, I'm now Assistant Store Manager of Ponsonby Groom Room and a Senior Barber.

What's your barber style? Why?
I'd say my style has more of a European feel to it, with softer edges and less hard lines. In saying that, fades have got to be one of my favourite cuts, so I try and show patches of urban barbering in my style too.
My barber style came quite naturally to me, with a mix of what I liked and perhaps watching Jeremy in action (High St Manager) has influenced the way I cut too.

What's the best thing about your job?
Best thing would be making someone's day with a fresh cut. I'm the happiest when I have a client who sits down and says, "I trust you to do what you want". From that moment, not only am I doing everything I can to make that person happy, but I'm also trying to make myself proud of what I'm doing too. When they walk out, I want to be proud of my work. Every head is a walking billboard.
If you weren't a barber what would you be?
If I wasn't barbering, I would definitely be getting more into my photography.
Photos: Barkers