Pohutukawa, getting the boat out, chilly-bins full of VBs - some things are classic Kiwi summer, but fish and chips are a tradition that can't be beat.
We know you're eating them - once a week, at least. Maybe parked up next to the ocean, or maybe splayed out on the deck. While you're enjoying the rest of summer, why not have the best of its fish and chips?
Best Cafe, Dunedin
Best Cafe boasts fresh blue cod, affordable Bluff oysters, and hand cut agria chips. All three are worthy of your attention. For 80 years this cafe has been a pilgrimage for ex-pat Dunedinites, and it always delivers an old-school time warp atmosphere. The fish is a wee bit expensive but considering you're getting fresh blue cod and not just a hunk of old shark, connaisseurs would argue the price is worth it. The fish is prime, the batter can be gluten-free, and the spuds are buttery, fluffy, and thick. The highest-quality ingredients, cooked simply.
Mangonui Fish Shop, Mangonui
Mangonui fish shop combines excellent location with incredible selection, giving it a reputation that can't be beat. It's expensive, but it's not just a local chippy - it's an entire experience. Fresh fish is to be expected, but the sheer variety of seafood options is mouthwatering. Get the lemon fish fillet, a side of prawns, and try some of their salads for a balanced diet. Get there early evening to eat in, so you can sit out on the deck over the water and watch live fish swimming underneath you. Whether you have a bach nearby or are just passing through on a roadie, this is a must-stop. Prepare to spend a bit more money than you might at home, because it's all about delicious food and a stunning view.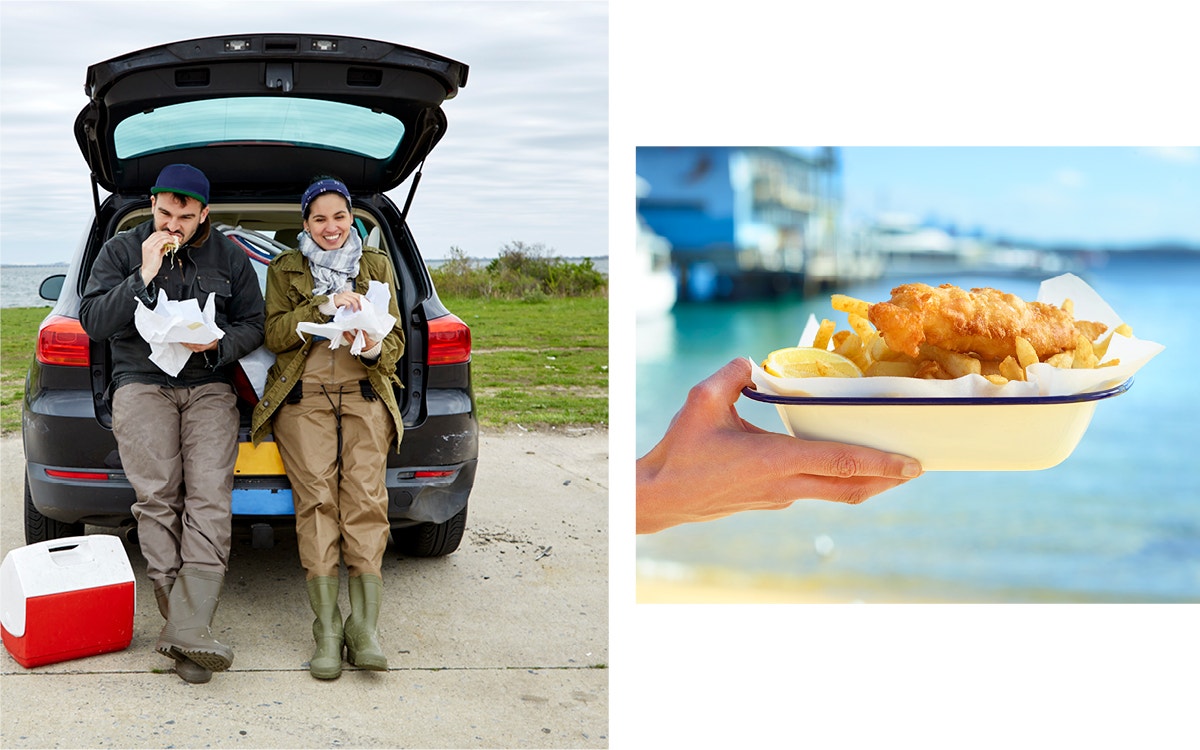 Urenui Takeaways, Urenui
Locals cheer for the bursts of flavour from the fresh snapper fillets - and they are generously sized portions as well. The mussel fritters are a favourite, and the corn nuggets are delicious little sweet, salty treats. Wait times can vary enormously, but that's mostly due to the popularity of the place! Head in earlier in the day for the fastest service in Taranaki, and enjoy a late lunch/early dinner by the water. Remember, you're on the west coast so there's sunset opportunities galore if you're keen for a later meal. The price is always right at Urenui Takeaways, regardless of the wait time. Apparently they still use dripping, so it's not for the vegetarian or vegan crowd. For committed carnivores, chuck a couple of steak rolls into your order.
The Sands Fish and Chip Shop, Nelson
Some high class burgers are available at this slice of takeaway gourmet life. Right opposite the water, The Sands is the perfect takeaway place if you want a bit of bougie with your batter. They have a chicken, blue cheese, and avocado burger. I'll wait for you to wipe up your drool. Eat at one of their rainbow-striped porch tables, or take your greasy parcels over the road to Tahunanui Beach. The portions are excellent, and they do a gluten free batter, so you can gorge yourself on fresh fillets without too much concern for a tummy ache. The chips are delicious but pretty standard, so focus on burgers, hot dogs, and fish at The Sands, and enjoy the chips as your vegetables on the side.
Devon Seafoods, Rotorua
There's something about the fish and chip experience that ignites hope and optimism in us all. Heeding the call to inspire the masses, Devon Seafoods in Rotorua has a reputation for granting the one takeaways wish we all hold dear to our hearts - the freebie. Tales are told about the extra piece of fish in the family pack order. Ballads will one day be sung about the generous helpings of crispy bits or potato fritters. Punters refer to the owners as "a wonderful couple," just like the beloved fish and chip. Your money will go far at this place, especially when you're ordering one of the value packs. The portions are as generous as the food is delicious. This is a proper takeaways, so load up on L&P, Whitlocks sauce, Best Foods mayo and invite the whole family over to feast themselves into a food coma.