Picture, if you will, 500 bikers travelling en masse. A gang, you might think, a swarm of angry louts roaring into town to drink beer. Now make them fashionable. And friendly too, with a commitment to an essential cause.
The Distinguished Gentleman's Ride is made up of bikies of a different sort. In suede boots and double breasted suits they ride in style, in the name of fundraising huge sums for men's health astride their classic bikes.
The host of this year's ride – on 29 Sept – knows a thing or two about style. Danilo David is a photographer based in Auckland. His studio, tucked away in Eden Terrace, is a diorama of his mind: a classic Suzuki, helmets, an iMac on a trolley with wheels. David, who sleeps just four hours a night, spends his life here, shooting, retouching, rebuilding his bikes.
"My life is busy, it never stops, so when I start something else, I just sleep less."
David has been around bike building for over 30 years, and customising them as a hobby in New Zealand after moving to the other side of the world from his native Brazil. It was in Australia that he met the founders of the Distinguished Gentleman's Ride, Mark Hawwa.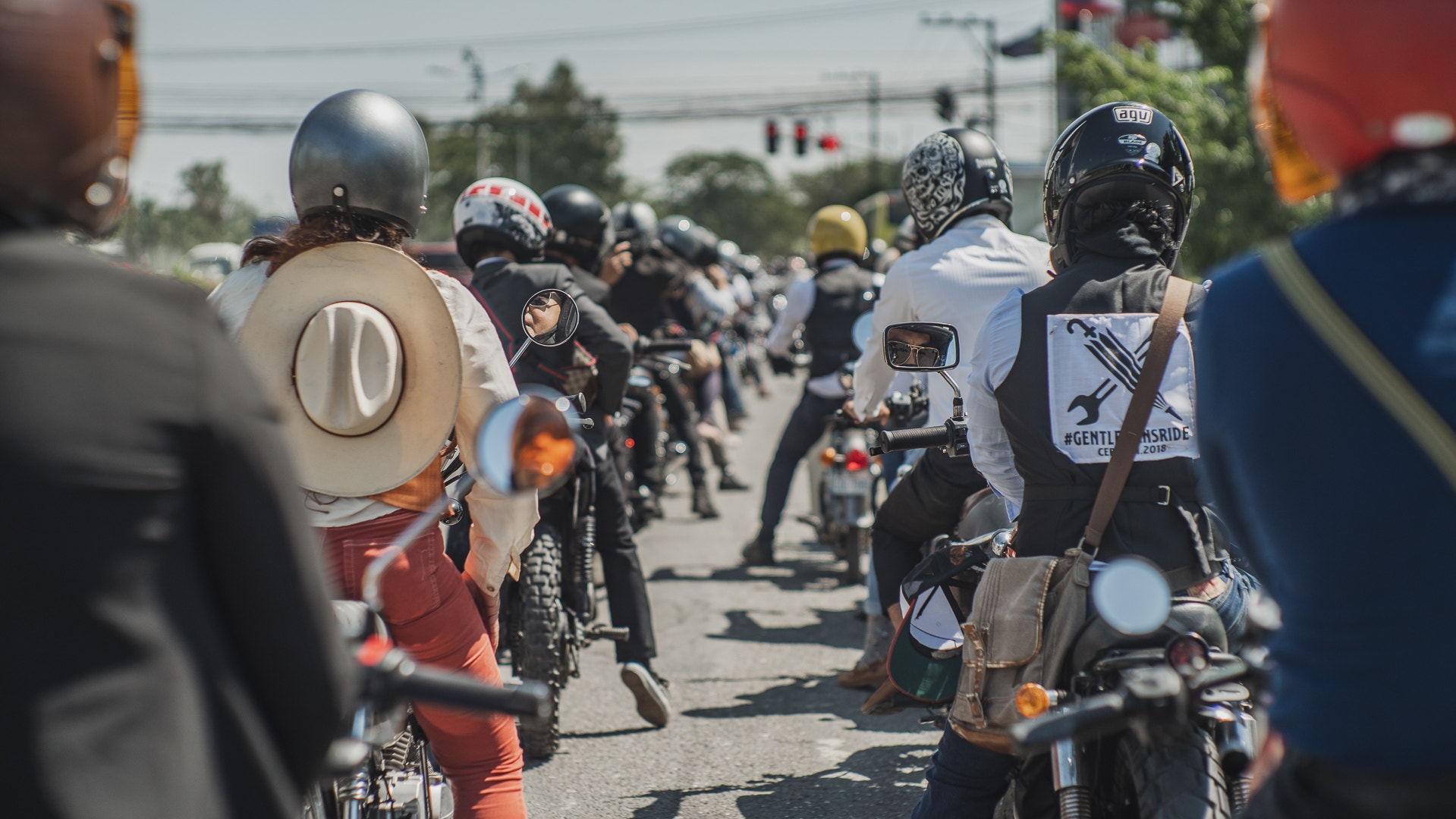 "The DGR started eight years ago in Australia," he says. "There was a regular ride, then one of the hosts took his own life. And so they thought it would be a good idea to combine what they were doing with returning something to the community. Suicide is a big issue now, and of course so is prostate cancer."
The tweed suits, cheesecutters, brogues and waistcoats – all the ingredients of a distinguished gentleman – were inspired by Mad Men's Don Draper, looking his best on a classic bike. It also provides contrast with other charity rides. "If there's no difference, it's just another ride, and they're happening every weekend. If you want to fundraise money, it can't be just another bike ride."
Auckland's ride ranks 18th out of 700 cities in making money, and last year had the largest percentage of people donating to the cause – pulling in more than $79,000. Last year, in his first as host, David expected 350 riders, then it ticked over 425, then it was at 475, and eventually 500 classic bikes rolled up on a beautiful morning.
But not just any bikes. The DGR has a strict style guide for bikes, holding true to the spirit Draper's original vibe. At the DGR you're going to see scramblers, bobbers, choppers, brats, scooters and more.
"Some people don't understand the concept of making it different and beautiful, so when we ride, everybody stops and wonders what is going on – we're in suits and that's what makes the difference," he says.
The bikes always turn heads. Take one scooter from last year: nitrogen-powered, so when it hits 70kmh and it's injected with its special fuel it takes off.
"It looks stunning. It looks absolutely stunning. The top speed is maybe 180 – for a scooter."
Similarly, the way we look can impact the way we feel, Danilo says. Kiwi men's muted dress sense echoes our stoic, stiff-upper-lip culture of silence. The DGR is a chance to break that down too.
"When I came from Brazil I noticed a lot of different behaviours. New Zealand was colonised by the English and you still have that macho thing here – you're not supposed to cry, and you're not supposed to look too nice, or like nice clothes."
"I'm a big crier, I have no problem with that, I'm very emotional. And I like to wear nice clothes. I think that sort of expression is good for your mental health. And so the Distinguished Gentleman's Ride is all of my interests together – fashion, charity, motorbikes."
Hosting the DGR takes months of work, fundraising and liaising with police and council around the logistics of moving that many bikes. The route can't have too many corners or right-hand turns. Too steep and some of the older classics might struggle.
And the birth of his son has made time management even tougher for David.
"I can easily go two or three days without sleeping, then once a month I crash, sleep for a whole day, then I'm recharged, and that's it. If I sleep more than that, my body hurts, and it feels like such a waste of time. Relaxation for me is not sleeping."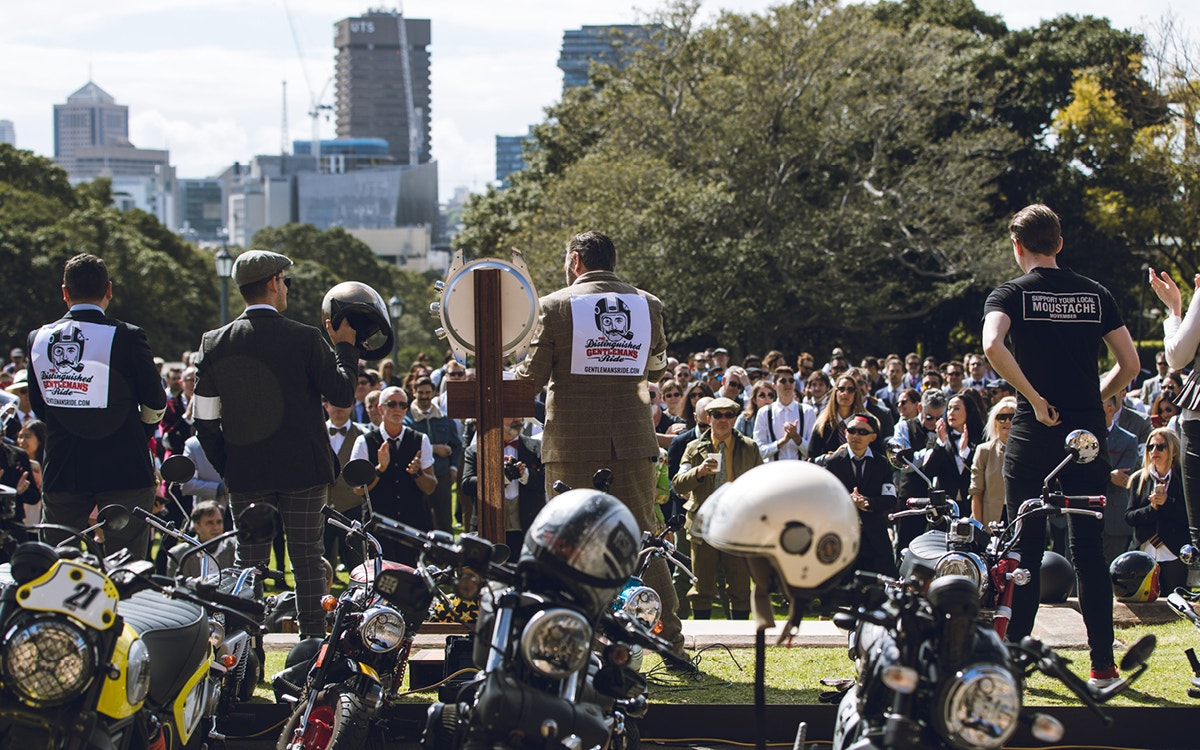 Suicide has a stigma which allows it to thrive in the shadows, David says. Most people who ride in the DGR have friends or relatives who have to deal with suicide and cancer, but survivors themselves are often reluctant to talk.
"We had a chance with TV3 to get someone on TV to talk about it, but nobody wanted to. It's easy to find someone who had a friend, but nobody themselves want to talk about it, it's very hard to get them to open up, and that's the stigma we're trying to overcome with the DGR," he says.
"And at the end of the day, who doesn't like to look cool?"