Paradise exists just a short drive up SH1 from Auckland. Here are our tips on where to go.
The north of the North Island is one of the most beautiful places on earth. It's full of natural beauty, ancient geology and modern history. There are famous destinations alongside hidden treasures. Beautiful concealed coves with clear blue water, long white sand beaches with perfect breaks, virgin native forest and the best fish and chips in the land are waiting to be discovered.
We asked our summer guides, local Sam Birch and his surf buddy, chef Makoto Tokuyama, for their recommendations on the best bits of the north. We've added some of our own tips, too. That's your summer roadie sorted.
Birch was born in the small fishing village of Leigh, an hour and a half north of Auckland. His father was a long line fisherman for Lee Fish - the name was changed to a more phonetic spelling help the global market with pronunciation. Now Birch works for Lee as the sales and marketing manager. He has a close connection with the north; a connection that's defined by his relationship with the sea.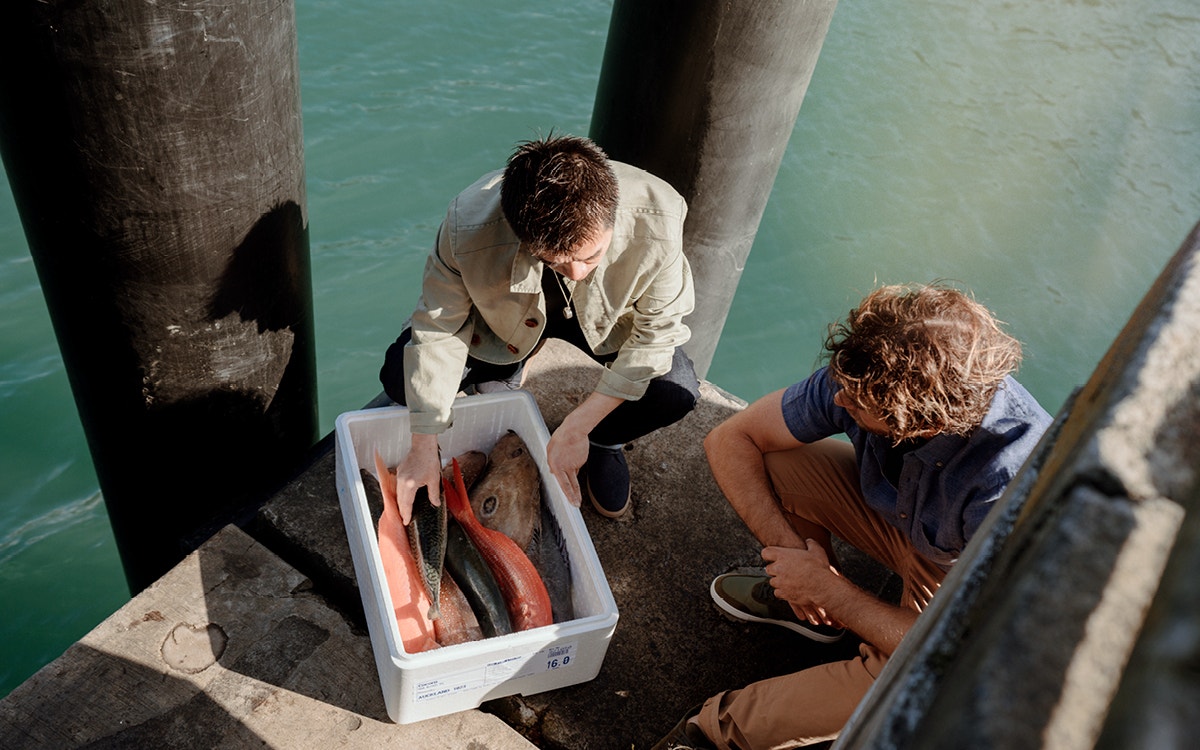 "You're in this little coastal town and we have some of the most beautiful coast in New Zealand. There are little bays and beaches that are untouched," says Birch. "Surfing was the thing that shouted the loudest. It made sense for where we were. And I think that became the obsession that glued everything else together."
"My favourite place in the world is the coastline surrounding the town of Leigh. Plenty of little bays and coves with crystal clear water and rocky cliffs fringed with Pohutukawa. They're great to explore on a paddleboard or kayak or with a mask and snorkel."
Mathesons Bay is a few kilometres south of the Leigh town. It's a beautiful black sand cove amongst the rest of the east coast's white sand, and it gives you great access to the rest of the coastline if you've got a paddleboard or a kayak.
Goat Island is just around the corner, and is one of the most accessible snorkelling and diving spots in the country; the marine reserve is teeming with life.
Pakiri Beach is further north, and is known for its wild nature and famous wind-swept dunes. This expanse is best explored on horseback.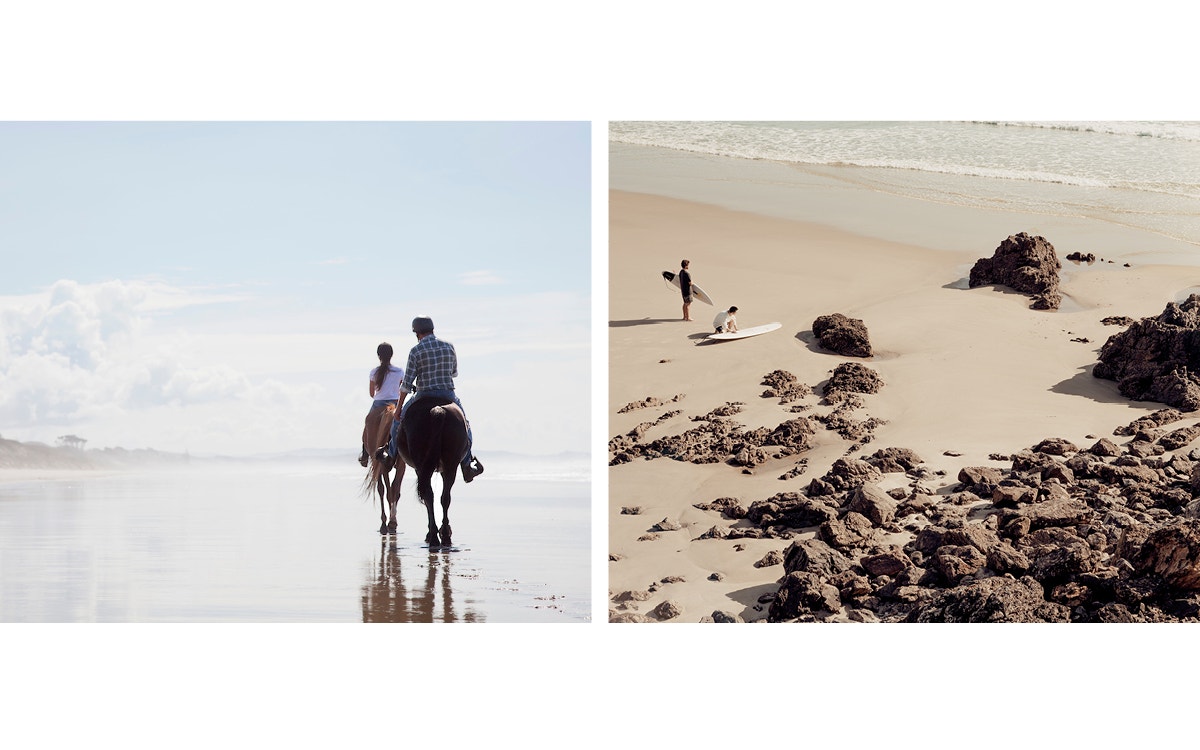 Te Arai Point is both Birch and Tokuyama's favourite surf spot. Only an hour north of Leigh along a winding coastal road, this stunning white sand beach feels remote. Standing on top of the dunes the beach rolls north all the way to Mangawhai Heads. Breaking both ways, its waves are famously powerful and hollow.
It's a place where Tokuyama feels close to nature. The executive chef and owner of modern Japanese restaurant Cocoro, Tokuyama fell in love with New Zealand on a working holiday because of the proximity of the beautiful natural environment to the city. So he moved here permanently. He found a balanced life where he is able to easily access nature when the pressure of the kitchen goes off.
"Te Arai beach has beautiful white sand, landscapes of rocks and fewer crowds," says Tokuyama. "When waves are good, we go surfing. When the tide is low, snorkelling and foraging around rock pools."
It's where he taught his children to surf, and if there are no waves they hunt for kina and octopus. He'll finish the day with a beer in the sunset. This is what he describes as his perfect day.
If you head inland from Te Arai and find your way to state highway 12, the road will start to take you to the west coast. Twenty minutes from the Brynderwyn turn-off you'll find the village of Matakohe.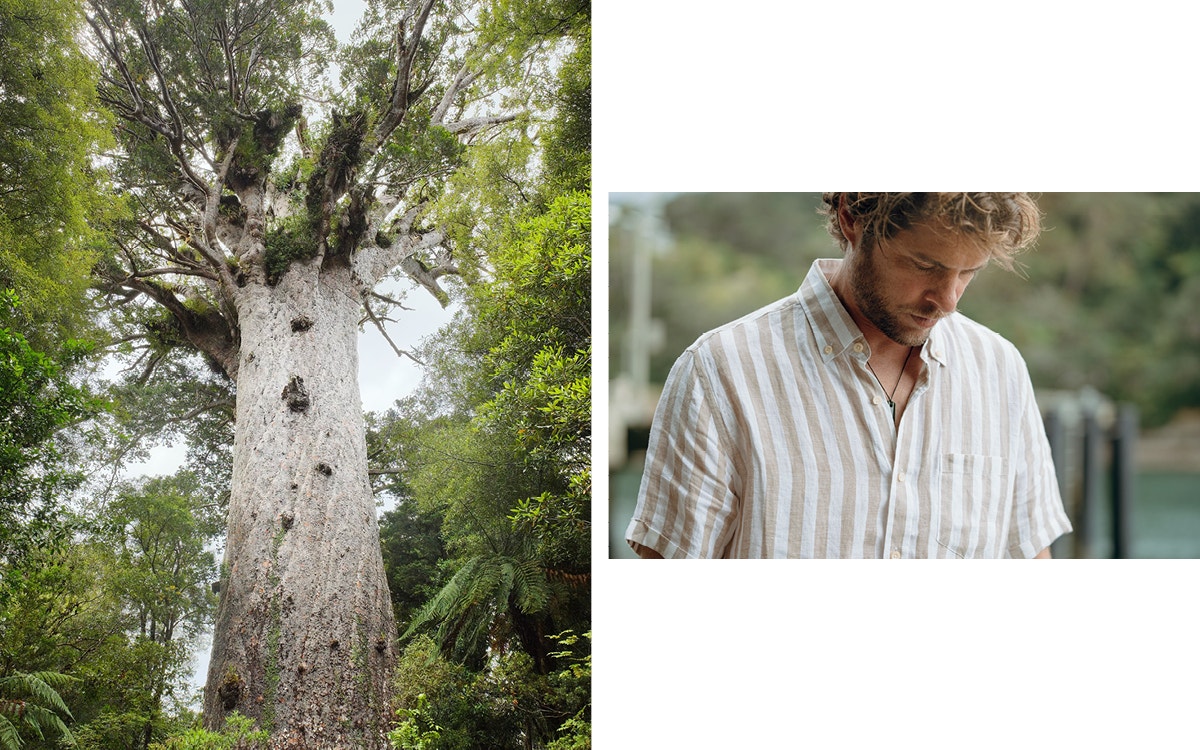 The Kauri Museum in this village is a fantastic resource, and a testimony to the great mana of the kauri. It tells the story of early settlers and the kauri logging industry. It's one of the best museums in the country hidden away in the far north.
Tāne Mahuta can be found by driving through the Waipoua Forest, past Dargaville through where towering kauri trees border the road. Tāne Mahuta is the largest kauri tree in New Zealand, and it will leave you in awe. At around 2,000 years old (it's hard to say for sure), it pre-dates the first Māori waka. Visiting this ancient lord of the forest is a good opportunity to reflect on the scourge of kauri dieback that has forced most of the tracks in Waipoua Forest to be closed. Be sure to use the boost washing stations and stick to the path.
Leigh Eats is Birch's go-to fish and chip shop. His favourite menu items are the burgers; they're well worth the wait when the place gets busy in summer. "You always bump into plenty of familiar faces there as it's one of the few social hubs in our small town – a great place to stop after a day at the beach."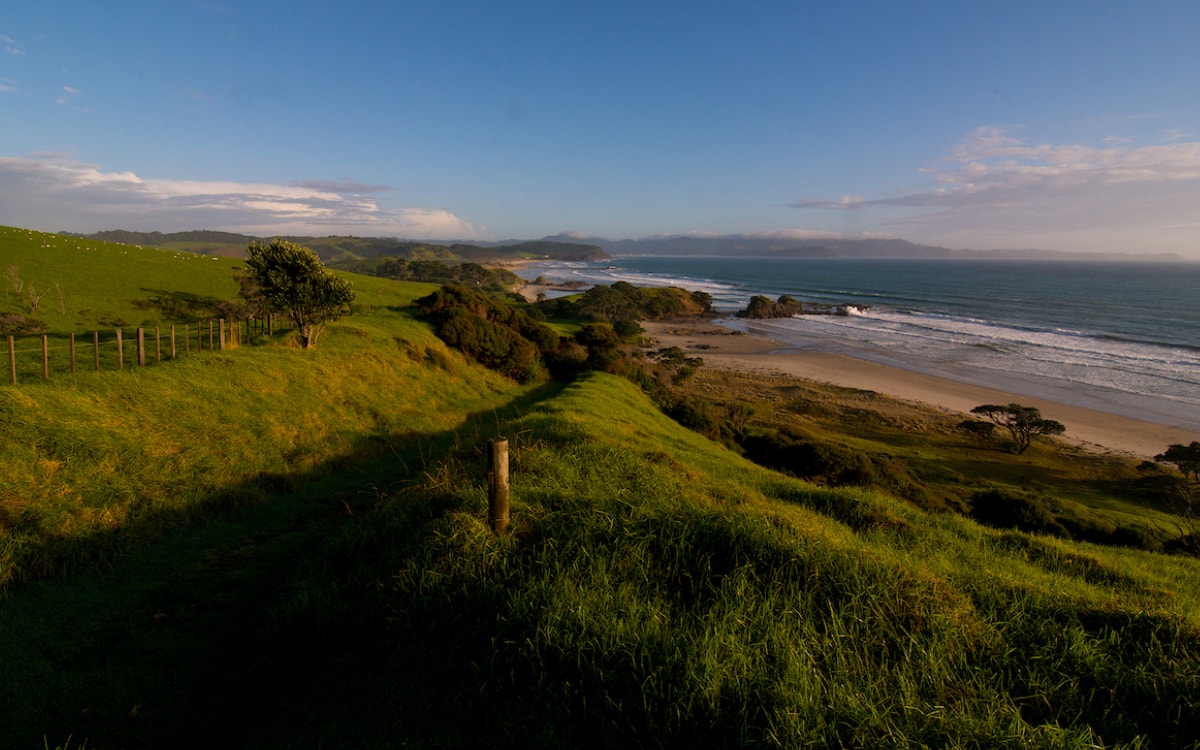 Sawmill Brewery, a Matakana hotspot, is a favourite of both our summer guides. "It's the perfect summertime spot," says Birch, who enjoyed stopping by for a craft beer after a day on the surf. Sadly, the brewery suffered extensive damage from a severe fire in October. It will re-open in March next year to the delight of locals and southerners alike.
Rothko in Matakana is Birch's choice if you're looking for somewhere special for a long lunch.
Both Sawmill and Rothko use Lee Fish products on their menus. Lee Fish catches the majority of its fish on long lines and use the Japanese ikejime method to kill the fish – a spike to the brain as soon as the fish is landed alive – ensuring it's high quality and sustainably caught.
McLeod's Pizza Barn in Waipu is good something a bit more casual, matching hearty food with award-winning beers. Tāwharanui Regional Park juts out above Kawau Island. Once a large, private farm it is now a testimony to the benefits of protecting the environment. A predator-proof fence was introduced in 2004 and birdlife – including North Island brown kiwi, whiteheads and robins – flourish in the sanctuary. Officially declared a marine reserve in 2011, there have been 50 species of fish recorded in the reserve, a local population of crayfish, and dolphins and orcas are regular visitors. Rightfully a popular spot on a sunny summer's day, the only catch leaving the city before everyone else does.
Summer is about getting out of the routine, turning off notifications and hitting the road. It's a time to discover parts of our backyard that we haven't seen, or experience them again through fresh eyes. The north is waiting for you.