The former high school dropout talks about the importance of "creativity" and ponders why people like getting naked in his ice bar.
James Ace is a busy guy. His hospitality group, Future Bars, runs some of the best bars in hard-partying Queenstown and some of the best cafes and restaurants on Auckland's competitive Ponsonby Road. The wildly varied establishments under his wing include Minus 5°, a bar on the shores of Lake Wakatipu where everything's made entirely from ice, and the big, heaving comfortable pub next door, Little Blackwood. In Auckland, there's Archie Cafe, an unassuming place to get sophisticated toast and coffee in Barkers' Ponsonby shop, and Mr Toms, a much-loved local and hive of social activity. We asked Ace about his life, his style and his dreams for the future.
Has there been any craziness at Minus 5? I feel like people would be constantly getting their tongues stuck on things...
Ha ha, that's what I always thought would happen, too! Fortunately, we've had no tongue-stuck-on-ice-sculpture incidents yet. People love getting nude in the freezing cold, though. It's really not the best opportunity to show off your manhood, but that doesn't seem to stop them.
How does Auckland's nightlife compare to Queenstown's?
Queenstown is a seven-day-a-week little town on heat. We can have our busiest night of the week on a Monday night for no rhyme or reason, whereas Auckland follows a very consistent pattern: it's very loaded toward the weekend and summer is crazy-busy.
We've seen a noticeable shift in recent years where people are much more aware and accountable about how they drink. We support that, but it's meant changing up our business model so we're about good food and a positive experience, as well.
What was your first job in hospitality like?
I started in 2005 as a part-time glassie at Lone Star, Tauranga. I was 22 and had absolutely no idea what I wanted to do in life. One of my best friends was a guy called Clarke, whose parents owned several hospitality businesses in Tauranga. He gave me a roof over my head, a part-time job, and a newfound passion. I fell in love with the industry — its energy, its vibrancy, the people, the teamwork, the diversity. Best of all, I could see that I could create my own path and achieve the lifestyle I wanted. I still have big challenges ahead of me, but I'm enjoying the journey and still absolutely love the industry.
How did you come to own the six businesses you have?
I was managing a restaurant in Sydney when an old friend I used to work for in Tauranga called to say they were buying two businesses in Queenstown and could I come and run them. This was a dream of mine.
I was a high-school dropout and I knew that, to enter the business world, I'd have to "get creative" — meaning work hard and network even harder. Within two years, the original owners wanted out, so I partnered with my uncle to buy the businesses.
From there, we worked hard to build the brands, people and businesses to drive sales, with the goal of buying more businesses. Over the next five years, I bought my uncle out, and I recently sold a share of the company to my legend GM, Bert Haines, and an old friend who runs two of the venues in Queenstown, Bradley Iles. Our plan is to open a new venue every year.
What's good to order at Archie?
Being vegetarian, I'd say the Spicy Affair, which is spice-roasted cauliflower, hummus and toasted almonds with a drizzle of olive oil on seeded toast. That and a piccolo latte is pretty much my morning routine.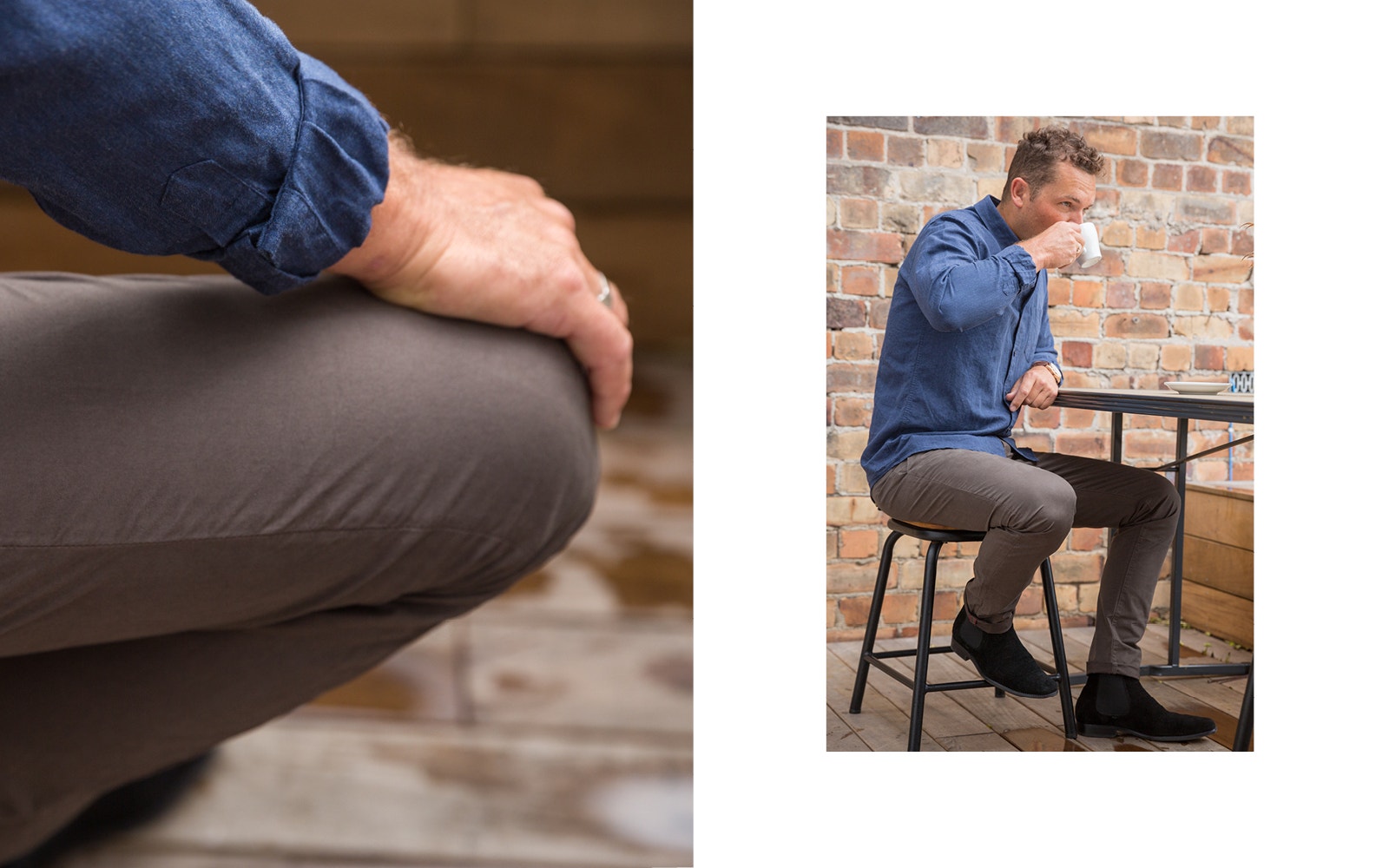 Talk us through your average day.
It starts at 7am when I walk our dog, Bear. He is a bit precious and needs to go before the day gets too hot but it's a nice way to mentally plan for the day ahead. I'll have a quick breakfast at home or at Archie and then it's in to a full day of managing costs, coaching managers, ideation to help keep the brands interesting, going to management meetings, doing staff training…
I have an office above MR TOMS in Ponsonby and an office in Queenstown. I'd like to work remotely but (and maybe it's coincidental), the businesses seem to perform better when we're in there, working closely with our managers and constantly looking at how to evolve the brands.
On a good day, I'll end the day by heading over to Takapuna with my partner, Livi, and the little man Bear, for a walk and a swim. Or if the waves are looking friendly, we'll zip out to Muriwai for a sunset surf.
Tell us about your personal style.
I prefer a classic look. For work, a crisp white shirt, some jeans or a nice pant, and a good old Barkers boot does it for me. Outside of work, I'll usually be caught in something pretty casual. I don't mind a cap and the odd tear in the jean seems to be consistent, too.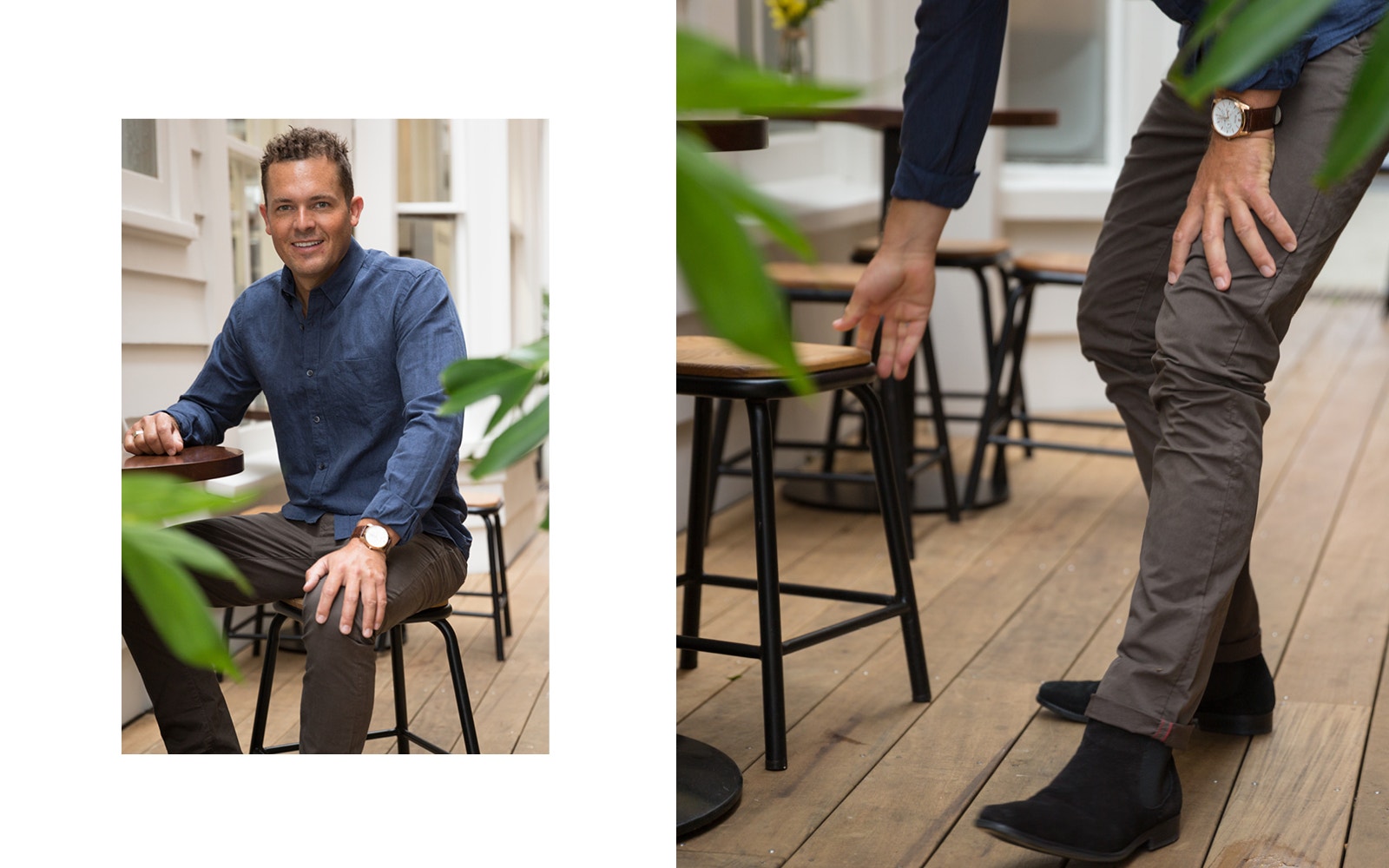 What are you excited about for this year?
In Queenstown, we're rolling out our sixth acquisition, a steakhouse called Britannia that's been there since the 80s. Its decor is based around the theme of the HMS Britannia, a British war ship, with blue carpet, handcrafted furniture and crazy memorabilia. Walking in there is like taking a step back in time. We're always talking about what our USP is and we're usually all about new trends and being chic. This place is the total opposite, but it's certainly unique. The opportunity we saw was that it's in the centre of Queenstown, right above Rhino's Ski Shack, our apres ski bar, which we're upgrading, so there are some good cross-business opportunities. The food is top-notch, too. The Spotted Dick (which I'd never heard of before) is a favourite amongst locals.
What lessons have you learned along the way?
Good people are everything. Surround yourself with good people and never ever be the smartest person in the room.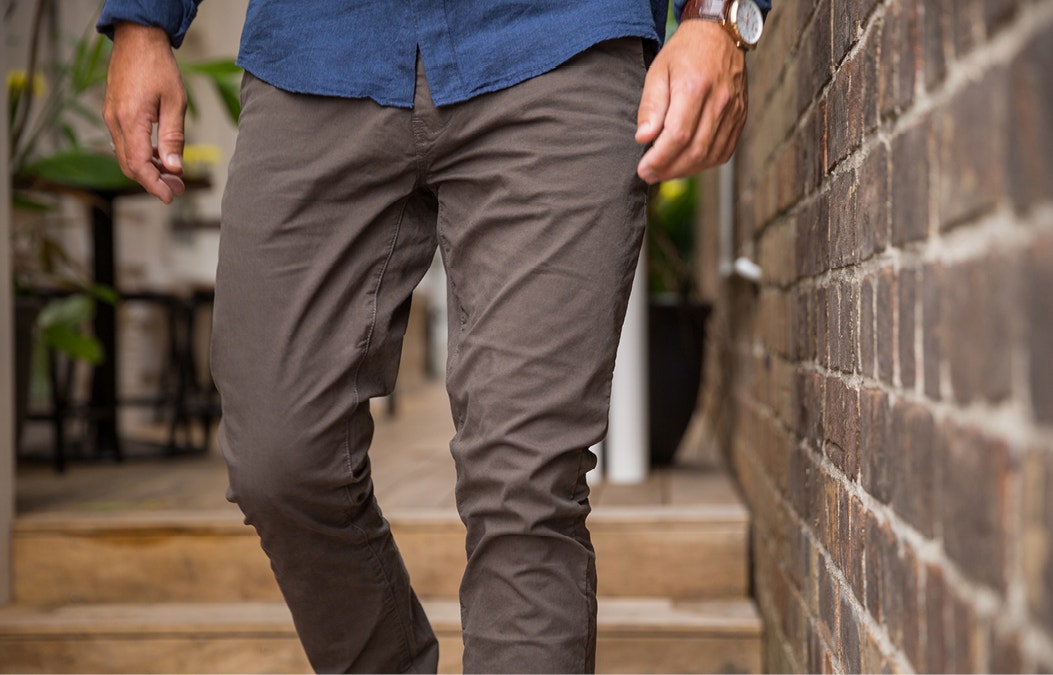 Photos: Barkers