Today's grooms have a few extra things to worry about, beyond a good suit and a clean shave. Here are six suggestions for the ultimate gift for your groomsmen.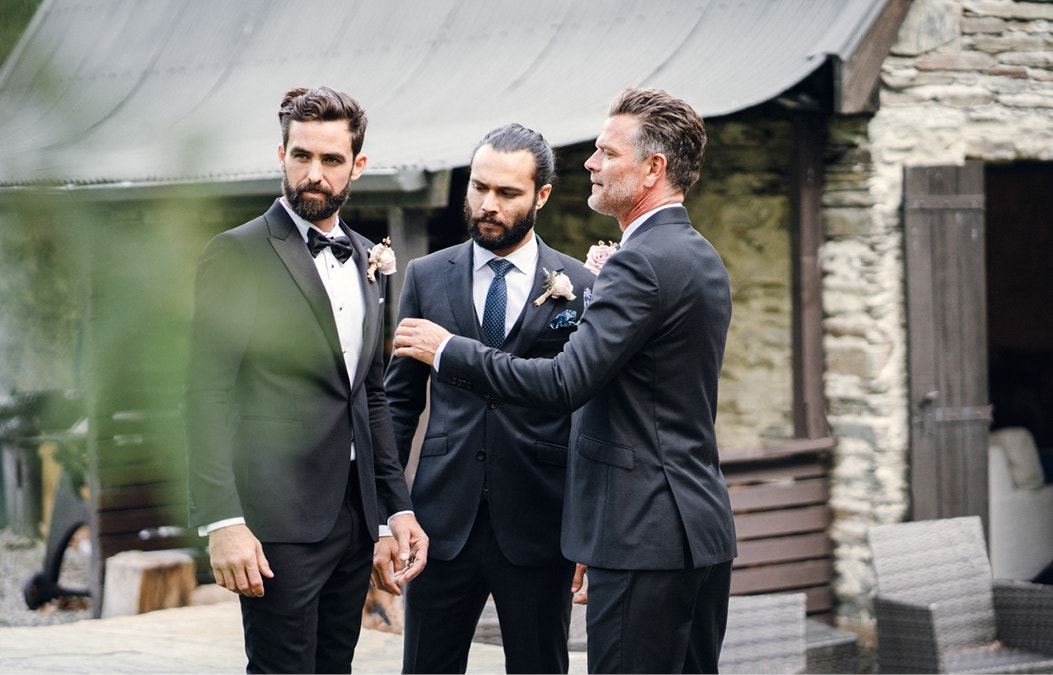 Something they'll have forever
Many like to recognise the role their groomsmen have played with a commemorative gift — something practical and beautiful that they'll have for life, and actually use.
A proper, grown-up's razor, like Baxter's chrome-plated, double-edged safety razor (which comes in a gift box, with instructions), a premium leather wash bag for a lifetime of travel, or a Parisian leather notebook that could be used as a journal, all fit the bill.
A gift that could also prove handy on the day is a good quality, stylish umbrella, like Barkers' Blunt IV. This is not just any umbrella. It's windproof for gales up to 117km/h, has a generous 120cm canopy, non-scratching blunt tips and it's a stylish, photo-friendly black.
Those who still appreciate the experience of glancing at a wristwatch to check the time (rather than your phone), an elegant dress watch like Nixon's Porter is a beautiful gift. Its leather strap, bold printed dial and otherwise spare design make it perfect to pair with formalwear.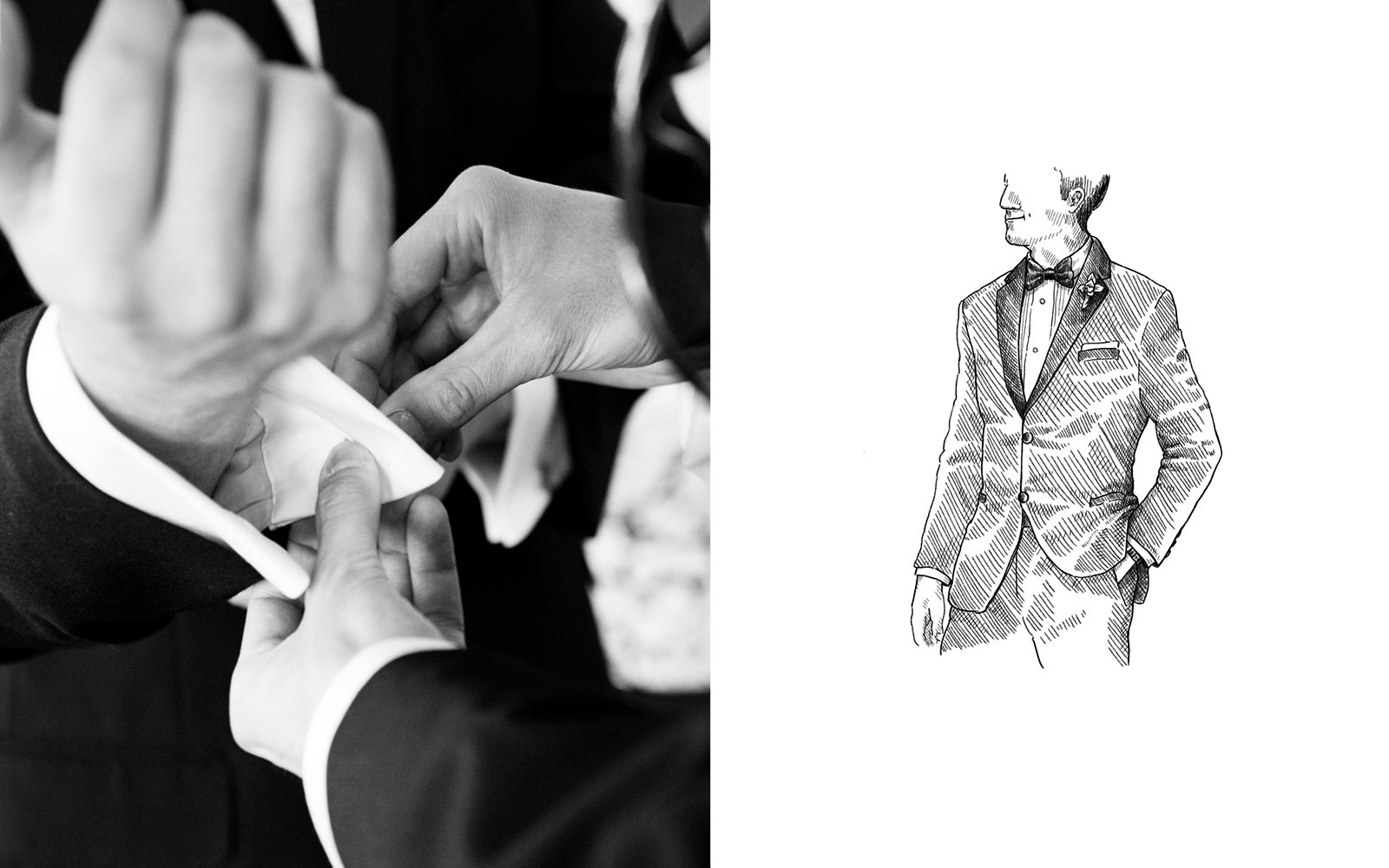 One-of-a-kind accessories
Having accessories custom-made not only creates a cohesive look on the day but will also result in your groomsmen having something with an enduring connection to your wedding.
In selected Barkers stores, you can choose from a selection of delicately patterned Liberty fabrics and have one-of-a-kind ties, bowties, pocket squares or braces made up by Parisian, a New Zealand company with a long history of craftsmanship.
With their finely wrought florals, paisleys and abstract patterns and their long, impeccable history, Liberty fabrics (which date back to the 1890s) will instantly give your look a sense of occasion. Available in a wide range of colours, they are a solid pick if you're looking to match in with a specific colour.
Cufflinks, which allow for a bit of personalisation, are another good option.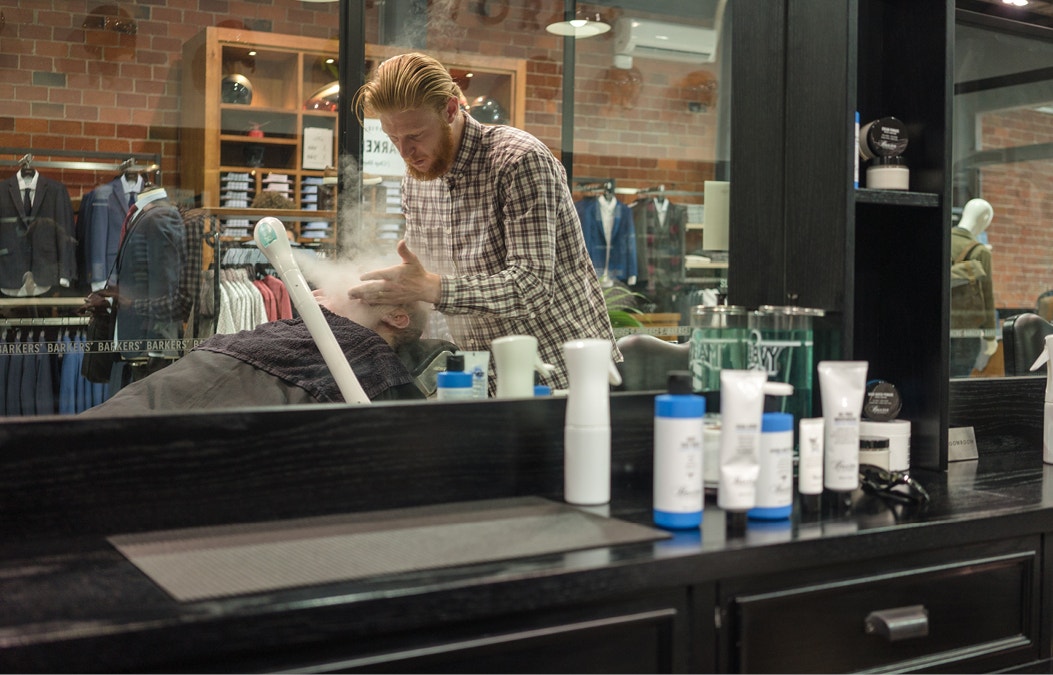 Shout the boys a facial
Ahead of a full day of being photographed, grooms and their groomsmen might want to invest in some good skincare products or preparatory treatments. Barkers' Groom Rooms now offer a facial — an intensive cleansing treatment where your face is basically steam-cleaned.
It's a remarkably relaxing process. You recline, hot towels are applied, then your face is massaged with cleansing products and a mint toner. The area around your eyes, which can often reveal how little sleep you've been getting, are treated with a serum, then an oil-free moisturiser is applied.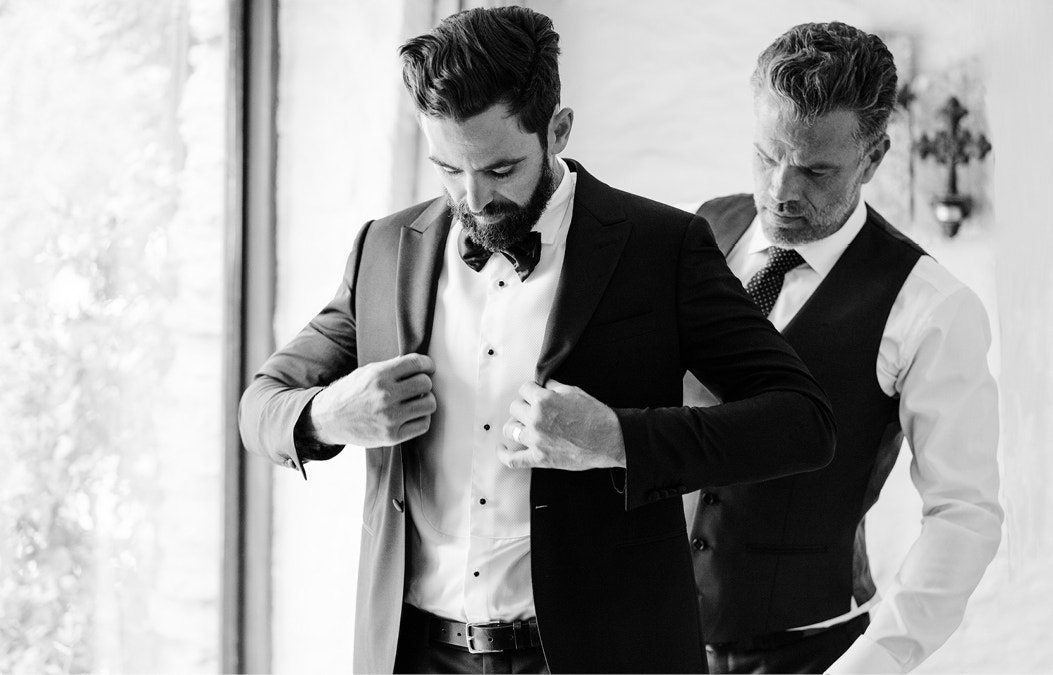 Share your wedding pics for a chance to win a $600 gift card
If you've just got married in a slick Barkers suit, don't keep it to yourself! Share your wedding pictures on Instagram, tagged with #barkersweddings because every month, one lucky groom wins a $600 gift card.
If you're about to get married, search #barkersweddings for ideas to steal (more commonly known as 'style inspiration').
For more help, including five stag-do ideas, pick up your free copy of 1972 from Barkers stores nationwide.
Photos: Getty
Illustration: Cat Chapman