Netflix's rebooted Fab Five have arranged themselves across a colourful spectrum. The scale starts at 'harmless drip' (Antoni); runs through 'snazzy uncle' (Tan) and culminates, always, with the undisputed queen, Jonathan Van Ness.
Here's why:
He's an icon of men's body positivity
Body positivity has been a big movement on social media in the last decade, but finding men's body positivity advocates can be a struggle. JVN's social media presence echoes some of his brilliant Queer Eye advice. Whether he's dancing to Lizzo while prepping his morning coffee, or giving pep talks to fans about loving themselves, Jonathan is a self-esteem icon. Build his affirmations and optimism into your daily routine and feel your positivity points skyrocket. Self-esteem is sexy.
"I joke all the time about wanting to get on steroids because I see other guys. I'm like, I wanna look like that – but then do I? Who is this for? Is this because I'm afraid if I don't look like this I'm gonna wind up alone? Or is it because I really want myself to look a certain way? When I answer that question honestly, like, I love how I look right now. If I were to do steroids, it would be so that other people would see me the way that I already see myself. And no! Fuck that. No. No, thank you."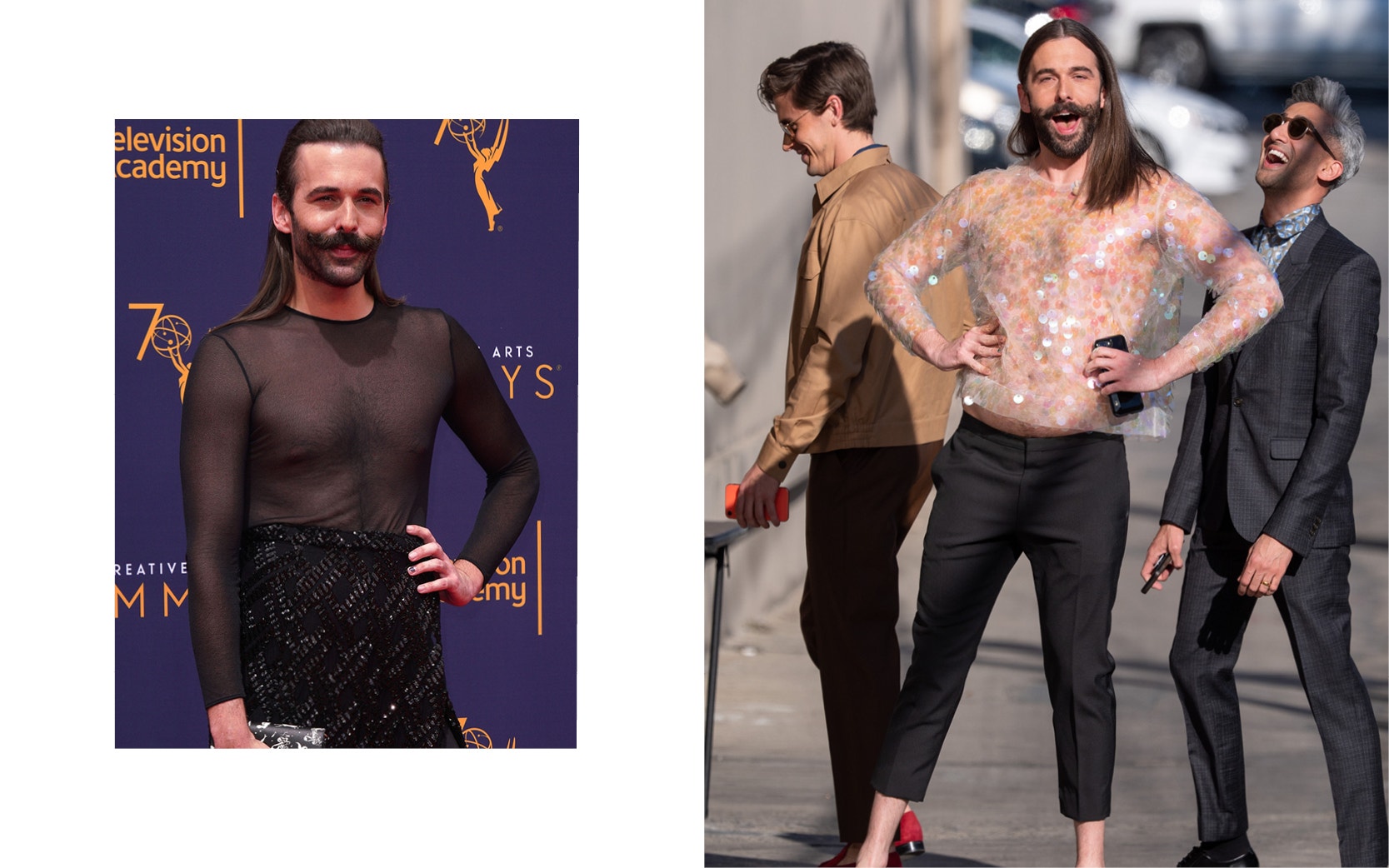 He's a later-in-life athlete
As a lifelong fan of figure skating, JVN picked up the sport himself in 2018. Having dedicated himself to yoga and weight training since the death of his stepfather, he hired a trainer, bought the gear, and hit the ice. He has been documenting his training sessions and his progress on Instagram, in preparation for his upcoming stand-up comedy tour The Road to Beijing. Jonathan's commitment to practicing his passion shows that it's never too late to try something new. What's something you've always wanted to do but been too intimidated to try? Channel Jonathan and finally book that training session, te reo immersive, or cooking class.
"It took me practicing yoga every day for five years to get this. If it looks easy, someone probably worked very hard for it, so whatever it is you're learning be gentle and compassionate w yourself."
His podcast will get you curious
There's nothing better than a new podcast recommendation – with a huge back catalogue for you to binge. Getting Curious with Jonathan Van Ness is your new weekly must-listen. Getting Curious offers relationship advice from couples' counseling pioneer Stanley Tatkin, insights into what makes music star Lizzo tick, and scientific strategies to manage toxic stress. Jonathan's energy, excitement, and, well, curiosity deliver expert information in an accessible and refreshing way.
He's an incredible TV recap artist
JVN got his big break when one of his hair salon clients, Erin Gibson, convinced him to record his recaps of Game of Thrones for Funny Or Die. And so Gay of Thrones was born. Each episode, Jonathan does a comedian or actor's hair while recapping an episode of Game of Thrones. It's funny, high-paced comedy that will catch you up with the storyline quicker than reading Wikipedia. Even if you've never seen GoT, this web series gem will help you get through watercooler conversations. Here, he describes Dame Diana Rigg's final scene is simply divine: "Ultimately at the end we've got High Garden Maggie Smith, she's doing the most in her grandma den, listening to her end-of-life care options under TrumpCare."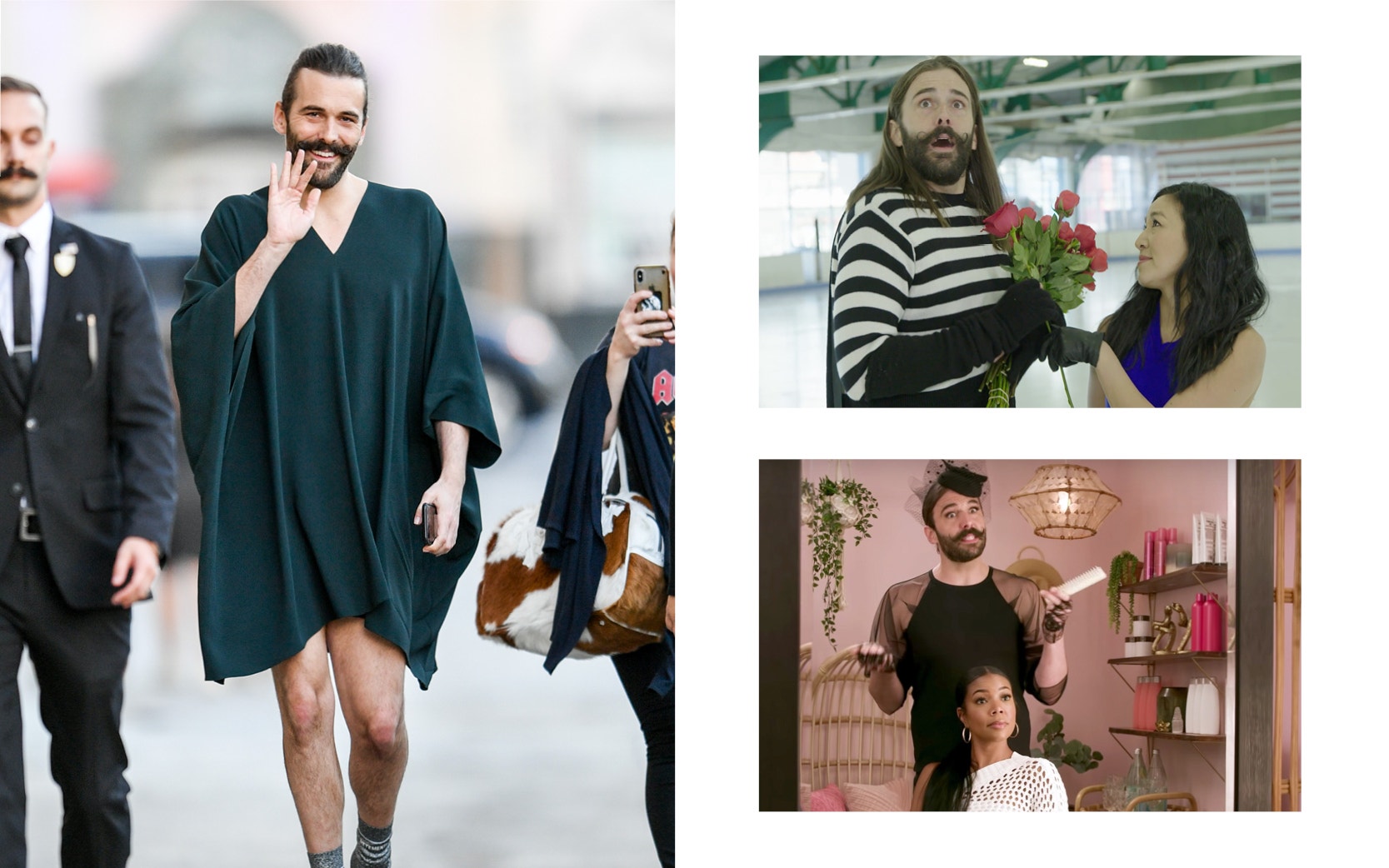 He makes pushing fashion boundaries accessible
Whether he's turning up to the Emmys in a mesh top, or strolling the halls of power in a pleated skirt, Jonathan is breaking fashion boundaries for men left right and centre. JVN has the confidence of someone who has pushed through childhood bullying, been the only boy on his high school cheerleading squad, and stumbled into the limelight with a smile on his face. He is all man, with a bonus feminine energy that heightens his powers. Confidence is the key to style. So while we can't all comfortably rock a bare-chested sequin moment while we're at the farmer's market, channeling JVN's swagger can elevate our wardrobe risk-taking one floral shirt at a time.
"Whenever anyone says I've taught them things by me being myself, I'm always like, 'Really? I just thought that was like, Wednesday for me. I was just wearing a kilt and a sleeveless top in a Rotary Club, it wasn't that big of a deal.'"
Photo credits: Getty, publicity